Dit is een preorder. Het product wordt pas geleverd zodra het beschikbaar is.
British SAS Lieutenant ~ 1942
Artikelnummer UD-90002
British SAS Lieutenant ~ 1942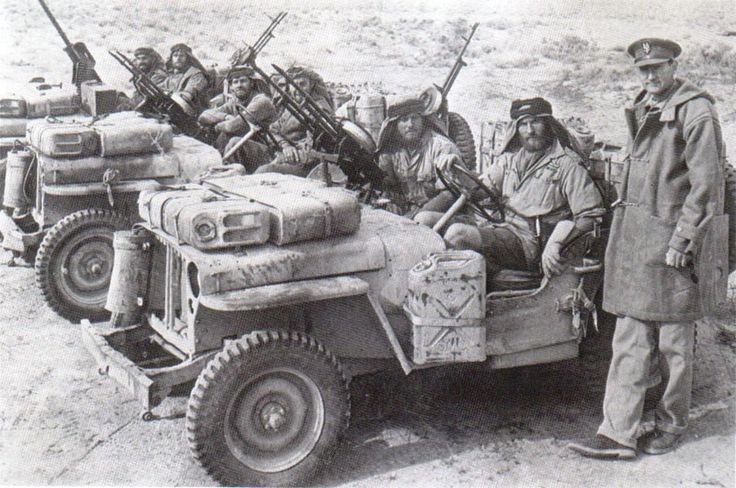 Nord Africa WW2 A close-up of a heavily-armed patrol of 'L' Detachment SAS in their jeeps with their twin-mounted Vickers K machine guns, just back from a three month patrol, 18 January 1943. Lieutenant Edward MacDonald sits in the wheel (foreground) with Corporal Bill Kennedy, while the driver in the second jeep is Private Malcolm Mackinnon.
The crews of the jeeps are all wearing 'Arab-style' headdress (kafiyeh), as copied from the Long Range Desert Group (LRDG). The officer at the wheel of the nearest jeep has a Sykes-Fairbairn commando knife on his left hip, and insignia on his shoulder and left breast, including the operational 'SAS' wings. The jeeps all have modified radiator/condenser systems rigged, and many jerrycans of water and petrol mounted on the bonnet, sides, and in the rear of the body. The patrol leader's jeep mounts twin Vickers K .303 guns; the central jeep, twin and single Vickers guns at front and rear; and the furthest one, a .50cal. Browning – apparently an aircraft weapon – at the front and twin Vickers at the rear.
Note: They are using the American-built Willys Jeeps, instead of the far less-reliable British Land Rover! The famed Special Air Service (SAS) of the British Army was formed in Specially adapted vehicles were used in North Africa, including the famous 4×4 1/4-ton Truck, though heavily modified for its behind-the-lines role. The vehicle began appearing in July 1942. They were generally stripped down to save weight and, for operations in the hot climate,the grill was removed and a water condenser fitted. Weapons such as Lewis and Vickers K machine guns were mounted for use against ground or aerial targets.
Comes with:
Head sculpture "Edward"
BB2 Body with feeth
Arab style headdress and head scarf
Khaki drill KD bush jacket
British khaki drill shorts,1941 pattern
1937 Webbing belt
Pistl ammo pouch
Webley MK IV .38 service pistol holster
Neck scarf
Canvas rifle sling
Socks
1 Pair of dispatch riders gauntlets
1937 Webbing small pack
1 Pair of desert ankle boots
Weapons:
Commando dagger
Sten MK II Sub-machine gun
Webley MK IV Pistol with pistol lanyard
Accessories:
Allied military map
Monkey
Cigarette
Military binoculars
British Army 1 pint tin mug
Palms:
1 Pair of gun holding hands
1 Cigarette holding hand
1 Lighter holding hand
Decals:
Military service ribbons
SAS shoulder tittles
Rank insignia
SAS parachute wings
Fuel cannister and stone are not included
Meer informatie

| | |
| --- | --- |
| Artikelnummer | UD-90002 |
| Fabrikant | Ujindou Toys |